Treasures of Armenian Daily Life 100 Years Ago, May 1 - July 24, 2010. Brunei Gallery, School of Oriental and African Studies, May 1 - July 24, 2010.
Prof. Levon Abrahamian [National Academy of Sciences, Armenia] speaking on "Fighting with memory and monuments: re-shaping post-Soviet Armenian identity"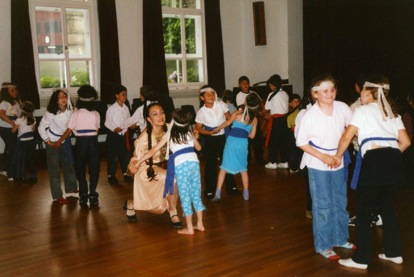 Anahid Workshop: Traditional Armenian folktale enacted through dance, music and storytelling. 2001.
Astghik Vardanyan leads workshop on painting "bird letters" (trchnakir)
Lucine Hakobyan (dance) with Alexandra Kharibian (costume) open Salon Mashup: Displacement and Regeneration, 2013.
Armenian language class in the Institute's library.
Plain of Moosh (credit: Sevan Minassian) illustration from Who Are the Armenians?, published by the Armenian Institute.
ARMENIAN INSTITUTE
ՀԱՅ ՀԻՄՆԱՐԿ
The Armenian Institute is dedicated to making Armenian culture and history a living experience through innovative programmes, educational resources, workshops, lectures, exhibits and performances.
The Institute Library includes over 8000 volumes and collections of serials on Armenia, the diaspora and neighbouring peoples and countries. The core of the library is the collections of Charles Dowsett, the first Professor of Armenian Studies at Oxford, the historian Christopher J Walker, the chronicler of British Armenians Joan George, the author and translator Mischa Kudian and the personal papers of David Miller, the first British resident ambassador in Armenia. The magnificent Dowsett collection of some 4000 books contains scholarly and rare publications in Armenian, Georgian, Ottoman Turkish and most European languages.